Services
Keen is an online platform that connects people facing urgent questions and difficult life issues to knowledgeable, experienced psychics. Keen's goal is to provide all of their clients with the answers they need during difficult times.
A psychic platform like Keen also allows you to maximize your psychic options. The website provides plenty of variety when it comes to psychics with different styles, backgrounds, and areas of expertise. That way, you have the ability to swap between different psychics until you find a professional that provides value to any given question or scenario.
Keen's website is organized to help you find an advisor that suits you as efficiently as possible. They have a filter option that lets you browse their spiritual advisors based on their skill categories, tools they use, specialties, and other applicable materials.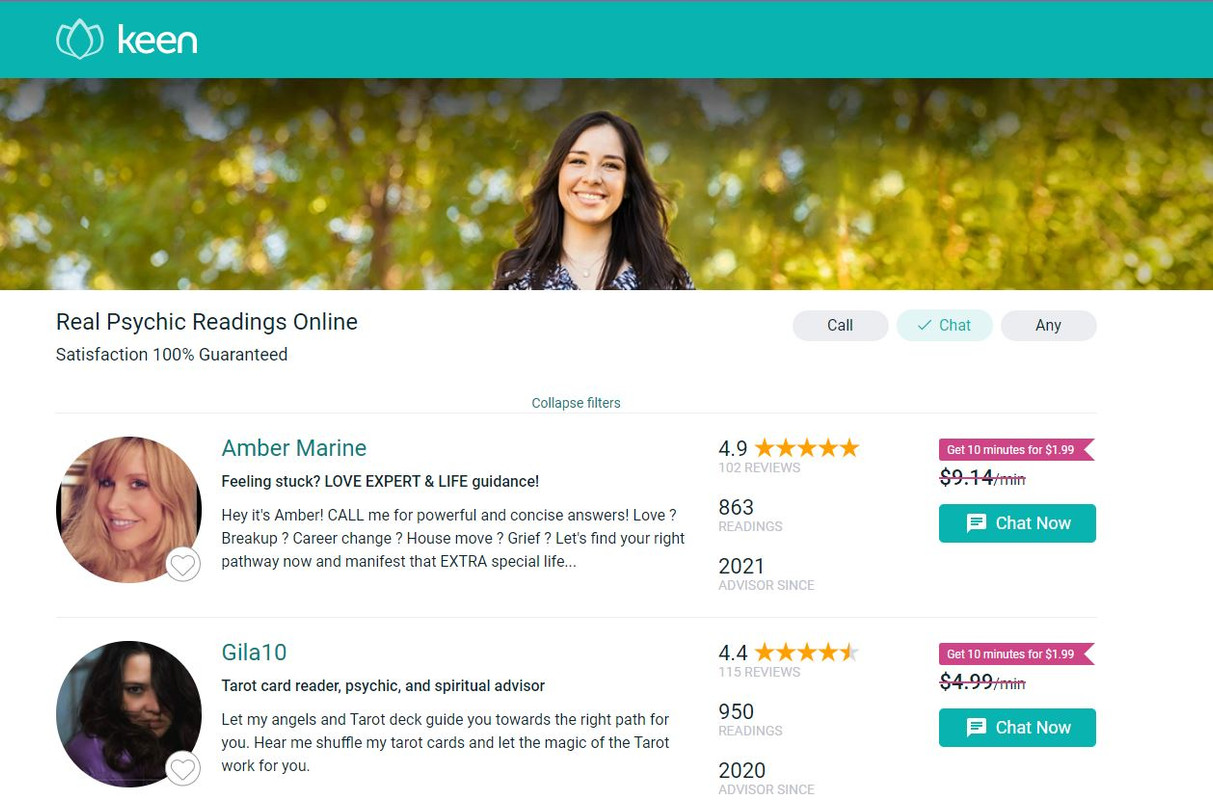 Finding a psychic professional on Keen couldn't be easier. Customers start by deciding what kind of reading they want, choosing the subject that they seek guidance on. Next, a customer would then choose the meeting format. You have the choice to choose "Call", "Chat", or, if you don't have a preference, "Any." Some psychics offer all three meeting options, while others will restrict contact options.
If you're on a tight budget, you can simply enter your minimum and maximum pay rate into the sliding scale. Once set, the sliding scale will filter out options that are too pricey for your set budget. The price of a psychic meeting typically ranges from $1.99 to $ 9.99+ per minute after the introductory offer period.
To register for the site, all you need is an email address. Once your email is submitted, you can already start speaking to a psychic! If you decide to chat past the trial period, you can continue the conversation after entering your payment method through the website or the phone.